Jackie Kimbrough, Ph.D.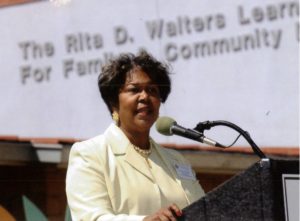 Jackie Kimbrough received the Bachelor of Arts Degree in Psychology (with a minor in German) from the University of Texas at Austin (1968) and a Doctor of Philosophy Degree in Psychology from the University of California at Los Angeles (1974). In 2007, she completed the Executive Program in Management at the Anderson Graduate School of Management, University of California at Los Angeles.
Dr. Kimbrough is Founding Director of The Children's Collective, Inc., a non-profit California corporation which has provided comprehensive educational and family support services to children and families in Los Angeles since 1972. As a UCLA graduate student, her interest in improving life outcomes for children led her to found The Children's Collective, Inc. One of the largest human services corporations in South Los Angeles, The Children's Collective, Inc. serves more than 13,000 children, youth and adults in Child Development, Youth Development, Family Support and Health programs. Program services are provided at 13 Los Angeles locations.
As Executive Director, Dr. Kimbrough is responsible for both the vision of the company as well as the implementation of that vision. For the past 30 years, she has directed child development and family support programs for low income African American and Latino families in South Los Angeles. She directs a food service program which provides about a quarter million meals a year to needy children of all races. She has also directed community programs including Teen Pregnancy Prevention, Child Passenger Safety Seats, Youth Advocacy Program, Black Infant Health, Support and Training for Family Child Care Providers, Nutrition Education and Prevention Program, Family Development Network, FamilySource Program, Youth and Adult Workforce Training, and Rita Walters Youth and Family Center. All of these programs serve a diverse, multi-cultural population. To improve health outcomes for clients in The Children's Collective, Inc.'s programs, Dr. Kimbrough has also co-located 2 health clinics with The Children's Collective, Inc. human services programs including St. John's Well Child Center and a soon–to-open health clinic at the Rita Walters Learning Complex.
As a Research Psychologist at the Rand Corporation in Santa Monica for eleven years, Dr. Kimbrough's work examined the impact of disparities between federal education policy and local program implementation, changing federal guidelines to increase educational and financial resources for low income, minority children. Dr. Kimbrough's research on local program implementation included an examination of school-based interventions for delinquency prevention and a series of studies on the effects of Federal/State categorical aid programs on local district operations. Dr. Kimbrough examined family support systems available to the Select Reserves and participated in research on training options for the Individual Ready Reserves.
Dr. Kimbrough's interest in educational equity is reflected in her work with Los Angeles Unified School District. As a consultant to the Research and Evaluation Branch, she led a team of researchers evaluating program strategies to reduce the harms of racial isolation for minority children. As an advocate for children in underserved communities, Dr. Kimbrough identified flaws in a State formula for allocating child care funds. Working with state legislators, she challenged the formula, resulting additional funds to low-income communities.
In higher education, Dr. Kimbrough taught courses in Evaluation Research and Personality Theory at several Southern California institutions including UCLA, CSU Dominguez Hills, California School of Professional Psychology (Alliant University) and The Wright Institute.
Civic involvement includes Board membership on the Sunshine Community Alliance, ensuring funds to improve child care facilities in the Century Freeway Corridor. Dr. Kimbrough also served a three year term on the PacBell/SBC Telecommunications Advisory Board, to ensure minority access to publicly regulated advances in telecommunications and information technology. As Far West Coordinator of Delta Sigma Theta's Habitat for Humanity program, Dr. Kimbrough raised funds and coordinated volunteers to construct a home for a homeless African-American woman and her four children in Lynwood California. As a member of The Links, Inc., she has raised funds to provide humanitarian assistance to women and children in refugee camps in Sudan and Chad.
Dr. Kimbrough was appointed Commissioner of the Los Angeles City Commission for Children, Youth and Their Families, where she served as Chair of the Child Care Policy Task Force. She was also elected to a three year term on the Neighborhood Council for the 8th District.
Recognizing her contributions to women, children and families, Los Angeles County named Dr. Kimbrough Woman of the Year in 2005. Her advocacy has been publicly recognized by the California Afro American Museum, Delta Sigma Theta, Coalition of Mental Health Professionals and Top Ladies of Distinction. Her work to prevent genocide of people ensnared in the Sudanese civil war won awards from a women's charitable group, The Links, Inc. annually from 2006 – 2014.